Alien cams are legendary among dedicated trad climbers, and have gone mostly unchanged since the early days of Colorado Custom Hardware, until now.
Early in my climbing career I searched desperately for Aliens. I had cleaned a few stuck ones from aid climbs in Zion and cherished those precious, hard-earned pieces. It seemed that shops rarely had stock on hand and I was told at the time that if you really wanted Aliens, particularly the hybrid/offset ones, you should go to the CCH factory with a case of beer or some pot and then you could help make your own.
Since Fixe picked up CCH, Aliens have been widely available through the Spanish climbing company who is more well-known known for their popular bolts and hangers. The Aliens they produced were nearly identical to those made by CCH, but this winter saw the introduction of a new and improved version, the Alien Evolution.
The biggest new features that stood out to me are the narrower head profile and the drop in weight. The head of the cam is 20% narrower than traditional Aliens, making them even more effective at fitting into shallow crack placements. The head profile of the four cam Evolution is comparable to a Black Diamond C3 with three cams. In addition, all of the Evolutions dropped about 25% of the weight of the older version, making them significantly lighter than similar small cams such as the Metolius Master Cams or Black Diamond X4s.
A few other tweaks on the old version should make these an appealing upgrade: the new, ergonomic thumb pull and the contoured trigger make the cam more comfortable and user friendly compared to the flat trigger pull on the old Aliens.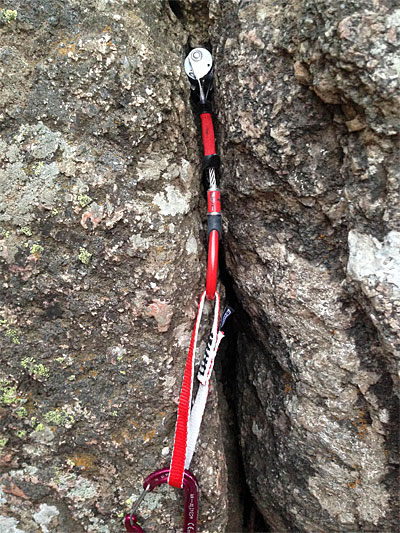 I used the new Evolutions side by side with Aliens of old, as well as other manufacturers' small cams on a variety of climbs, from desert tower aid routes to icy mixed climbs. I found that the new Aliens were just as trustworthy as the old versions for the flexibility and security in shallow placements. Compared to similar small camming units with four cams, the flexibility and head profile is hard to beat.
Fixe claims to also have increased the strength in a variety of components such as the steel cable that makes up the backbone of the cam. I think the cam wires look like they will hold up better to use and abuse, one area where the old Aliens sometimes failed and were difficult to repair. They also added dyneema slings to the cam that are higher strength and come in two options, a single loop or a double loop. I tested the single loop Evolution LITE version and enjoyed the new sling for its lightweight and small profile but didn't care for its longer length. Compared to traditional Aliens or other cams, the single loop is about 2-½ inches longer and hence, they hang lower on a gear sling or harness and can feel a little awkward when racked next to other cams. I didn't test the LITE Double Sling version but can see how it will be popular with climbers who like the ability to extend a piece with the sling on the cam.
Four out of four stars. I think climbers will appreciate the improvements of the new Aliens and find them to be a good value for such a technically advanced piece of pro. The LITE versions cost $66 each or $320 for a set of 5 and the LITE Double Sling versions are $2 more and $330 for a set of 5. At this price, they are over $10 less than Black Diamond X4s although a little pricier than the $59.95 Metolius Master Cams. I still think durability could be an issue, though after several months I haven't had any problems. This review will be updated if I find that something comes up as I continue to use these cams. Overall, I'm excited for the update to a long beloved piece of my trad rack.